In the midst of the ups and downs of the epidemic this year, ICETECH, the Hong Kong organizer, successfully held the MBS Annual Gala on June 19, 2022!
Including 37 Hong Kong teams who participated directly onsite at the Open University of Hong Kong, and 29 other teams from various districts online, a total of 66 teams from 8 cities and countries were represented.
The 2022 International MBS Simulation Competition, from the morning preliminary round, was divided into 4 groups of 4 finalists, the top 2 teams in each group and the one seeds from Hong Kong with the highest scores besides top 8, a total of 9 teams advanced to the semi-final round in the afternoon in English presentation for 7 minutes and 7 minutes of Question and Answer from the judges, all teams performed very well.
After a fierce competition, congratulated to the top three teams and here are listed as below:
Champion: tipSEA HKD20,000 The University of Hong Kong (HKU)
1st Runner: Watow HKD10,000 The Hong Kong University of Science and Technology (HKUST)
2nd Runner: SF Ten HKD5,000 National United University (Taiwan)
The International Macro Business Simulation Competition was attended by students from Hong Kong, Mainland China, Indonesia, Thailand, Philippines, Malaysia, Romania, Taiwan, etc.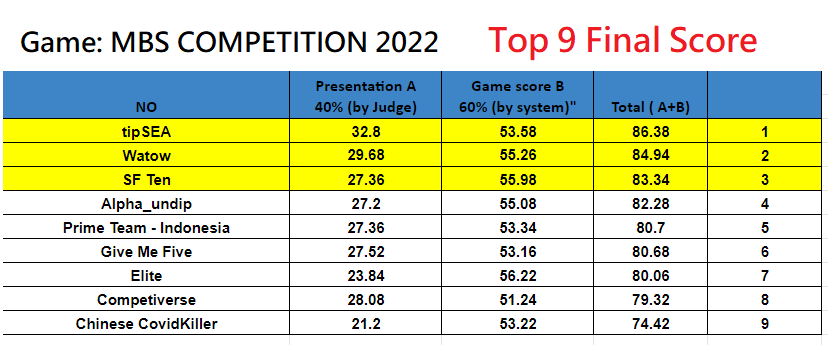 List of schools
The University of Hong Kong (HKU)
The Hong Kong University of Science and Technology (HKUST)
Kasetsart University, Kasetsart Business School
The Hong Kong University of Science and Technology (HKUST)
The Chinese University of Hong Kong (CUHK)
The Hong Kong University of Science and Technology (HKUST)
City University of Hong Kong (CityU)
Hong Kong Metropolitan University (HKMU)
Hang Seng University of Hong Kong
The Hong Kong Polytechnic University (PolyU)
Hong Kong Baptist University (HKBU)
Hong Kong Shue Yan University (HKSYU)
LingNan University
Babes Bolyai University (ROMANIA)
Thames International (Manila)
Disted College (Malaysia)
Kasetsart University, Kasetsart Business School (Thailand)
Jinan University (China)
Nanjing Tech University (China)
SooChow University (China)
Beijing Information Science & Technology University (China)
Diponegoro University (Indonesia)
Gadjah Mada University (Indonesia)
Institut Bisnis & Informatika Kesatuan Bogor (Indonesia)
Institut Teknologi Bandung (Indonesia)
Institute of Technology Bandung (Indonesia)
Politeknik Negeri Semarang (Indonesia)
Universitas Indonesia (Indonesia)
Universitas Negeri Semarang (Indonesia)
Universitas Prasetiya Mulya (Indonesia)
National United University (Taiwan)
National Taipei Univesity of Business (Taiwan)